You can not select more than 25 topics
Topics must start with a letter or number, can include dashes ('-') and can be up to 35 characters long.
README.md
Remote Instance Actions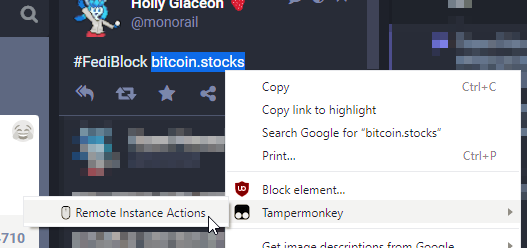 Quickly suspend or silence remote instances from the Mastodon frontend
What is this?
A userscript to make blocking remote instances on Mastodon a less tedious and time-consuming task.
How do I install it?
First, install Tampermonkey. Then, visit the installation website.
Why have a whole installation website for a userscript?
It fills in the @match directives for whatever instances are relevant to the user, using GET parameters so Tampermonkey's update functionality will continue to work.
Why is there PHP in a .user.js file?
For the same reason as the last question. That's how the @match directives are filled in with the GET parameters. The file has to have the .user.js extension so that Tampermonkey will prompt the user to install it, which means I had to go into the PHP configuration files and allow it to execute .js files as PHP. It's a little cursed but it does work.
TODO
Figure out why it doesn't work on Firefox

It's because the @run-at context-menu header only works in Chrome based browsers. The context menu item appears in Firefox but doesn't do anything. Find a workaraound
It's actually because of something extremely different and much, much weirder. @run-at context-menu actually does exist in Firefox now, but there's a bizarre CSP enforcement bug that causes Firefox issues. Details on the installation page

Fixed in an update to Tampermonkey

Don't rely on parsing human-readable text, won't work in other languages

There's no good API or anything for this, going to need to parse the document structure
There actually is an API now, but it's only available in 4.0+. Investigate this